Shower Filter
At GoodFor Co, we're firm believers that true wellness begins with water. Introducing our exceptional shower filter, your gateway to healthier skin, lustrous hair, and an overall sense of well-being. With its efficient reduction of chlorine, heavy metals, and other common tap water impurities, this simple-to-install solution ensures remarkable results.
Activated carbon is highly effective at reducing or removing toxins, pollutants, and contaminants from various substances. Some of the toxins that our shower filter reduces:
Organic compounds: Pesticides, herbicides, industrial chemicals, and certain solvents.
Chlorine and chloramine: Chlorine and chloramine, which are added to water supplies for disinfection.
Volatile organic compounds (VOCs): These are substances that easily evaporate into the air and can be harmful. Activated carbon can adsorb many VOCs, such as benzene, toluene, and xylene.
Heavy metals: Mercury and lead, can be reduced.
Medications and drugs: Activated carbon can adsorb certain medications and drugs, which is why it's used in some medical treatments for poisonings and overdoses.
Odors and tastes: It also removes unpleasant tastes and odors from water and air.
Is tap water really that bad?
---
The short answer is yes.
Water sources can become polluted with industrial runoff, agricultural chemicals, and other contaminants, adversely affecting water quality. Aging infrastructure is another contributing factor, particularly in older cities where pipes and treatment facilities may be in dire need of maintenance or replacement. Corrosion in aging pipes can introduce impurities into the water supply, diminishing its quality.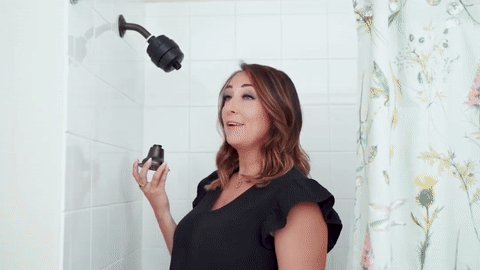 Easy Installation
---
Set up in only three easy steps
Remove the existing shower head from your shower arm by turning counter-clockwise
Wrap the new Teflon tape that is included in your box. Wrap tightly around the threads of the shower arm
Twist on the shower filter directly to the shower arm and then twist on the shower head to the filer, and your installation is complete.
Soft & Clean Skin
The alkaline layer improves the pH level of water and keeps your skin soft & smooth

Glowing Healthy Hair
Filtering your hard water to soft water will helpreduce any unwanted minerals on your scalpthat lead to dehydration and irritation
Maintain Water Pressure
All the micro-particles, hard water salts, and sediments are collected by the stainless steel mesh present in the filter which helps maintain that water pressure you love
Prevent Bad Odors
The activated carbon layer reduces bad odor and prevents bacteria growth over time
Prevent Limescale Build-up
Reduces the amount of calcium in your water resulting in less cleaning time and a shiny shower with out hard water spots.
Reduces Chemical Impurities
Reduces the presence of chlorine, water hardness, and heavy metals to optimize your overall health with every drop
How to Install your Shower Filter
Press play to watch the full how-to video.
Frequently Asked

Questions
Yes, It's a universal 1/2" thread
All showers in the USA use 1/2" standard plumbing pipe (which makes installation a breeze).
DO I NEED TO CHANGE THE FILTER?
Yes, we suggest every six months
Filter life depends on water usage. But every six months is a safe bet.
WILL IT AFFECT MY WATER PRESSURE?
No, your water pressure will stay the same
The shower filter does not affect water pressure, but it will help reduse calcium build up over time, which can increase pressure.
Reviews
---
We let our reviews speak for themselves.
My family and I feel more healthier and energetic since we've started drinking the alkaline water from our new water system. Thanks for showing us what's really going into our bodies and on our skin before and after the installation of our new Goodfor Water system.
Absolutely has been a great investment for us. Our 20-month-old drinks this water as if it were juice ! Our 11-year-old would never grab a glass of water on her own now we find her randomly drinking without having to ask her to. There's just a different feeling to our bodies with this water.
Installation was quick and painless and a few months later I absolutely love our system the water is crisp and good to drink. No regrets, this was truly a great investment for our house and family.
Just got our system a few months ago and we are IN LOVE! No more bottles all over the house and my pets are even healthier and less lethargic! My cat wasn't feeling well; after a slight change of diet and alkaline water My "Fancy Girl is back!" Thank you for changing our family's life.
Best company hands down! Got the system and can tell the difference right away! Was spending so much money on alkaline water and now I get unlimited alkaline water directly from my tap!