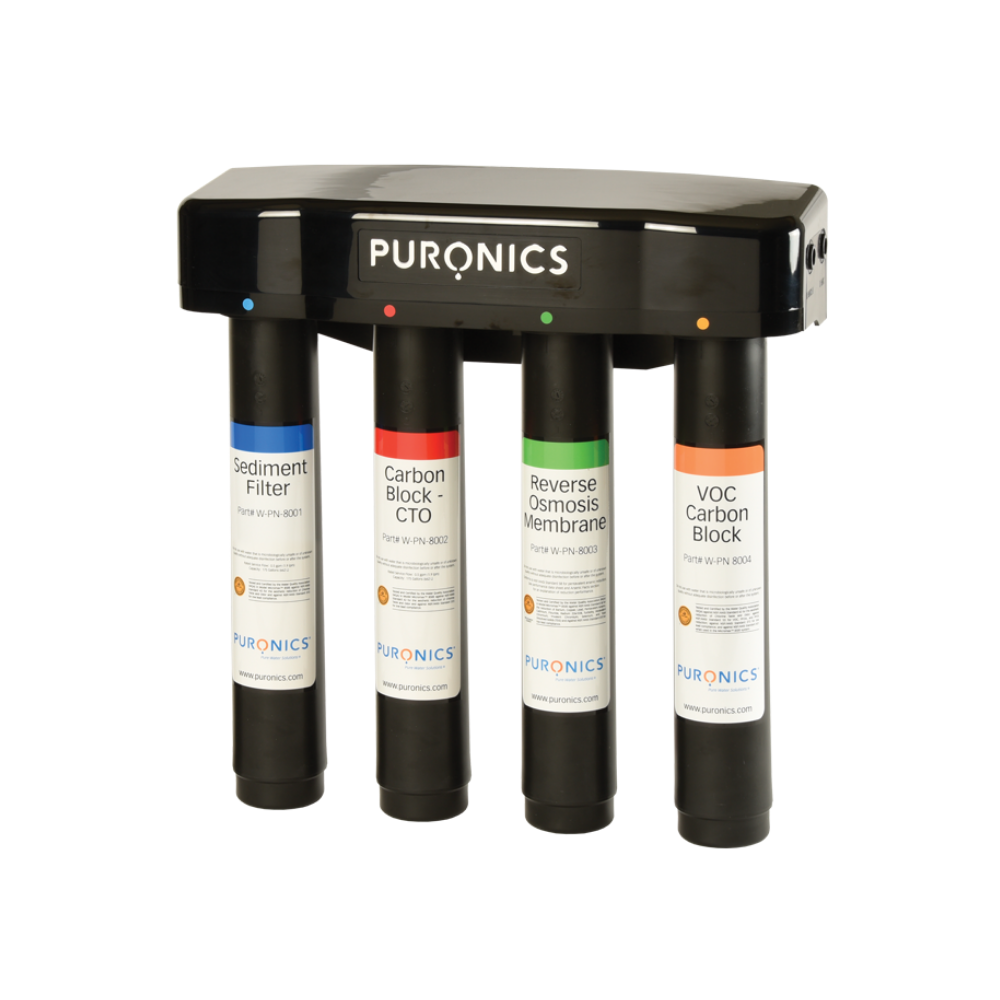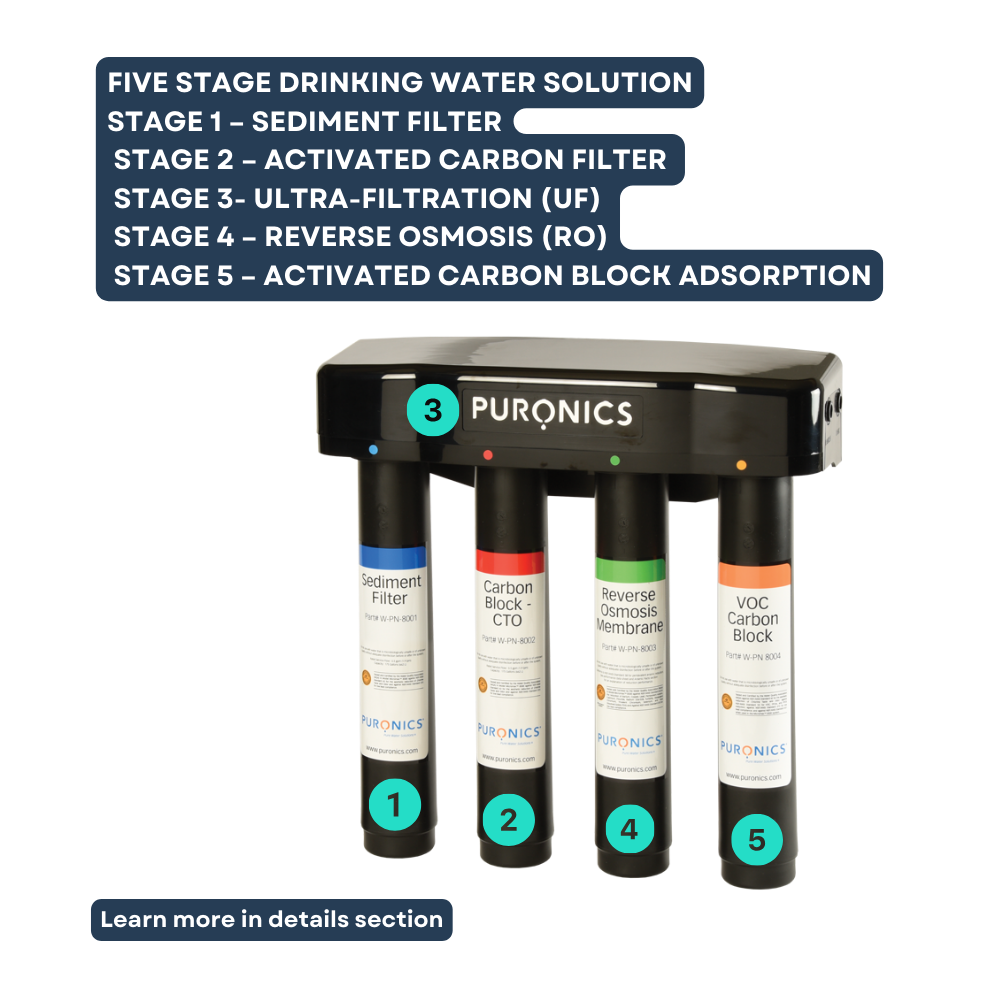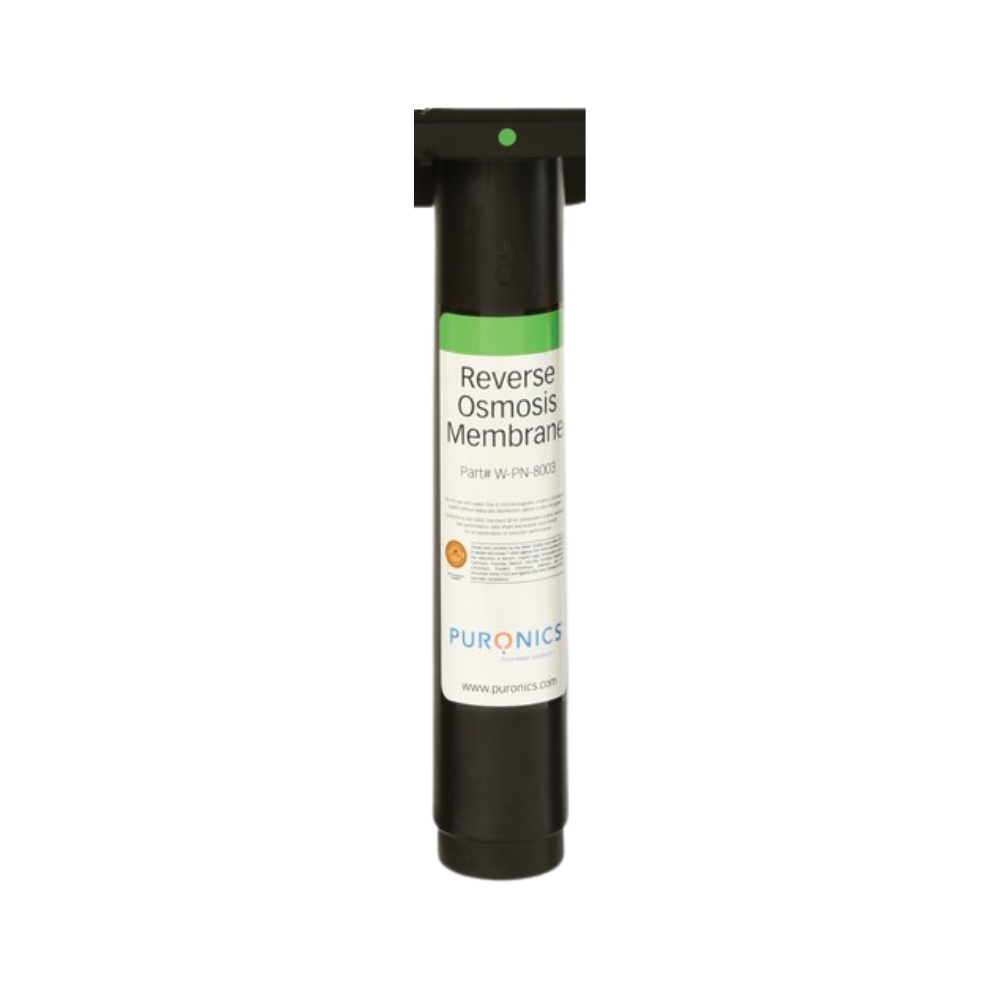 Micromax 8500 Replacement Filter Pack
Individual filters are not eligible for the sale.
Meet the Micromax8500, Our Favorite Reverse Osmosis Water Filter
The Micromax8500 by PuronicsⓇ is an under-the-sink water filter that uses four stages including reverse osmosis to filter out all of the nasty stuff in your home's drinking water.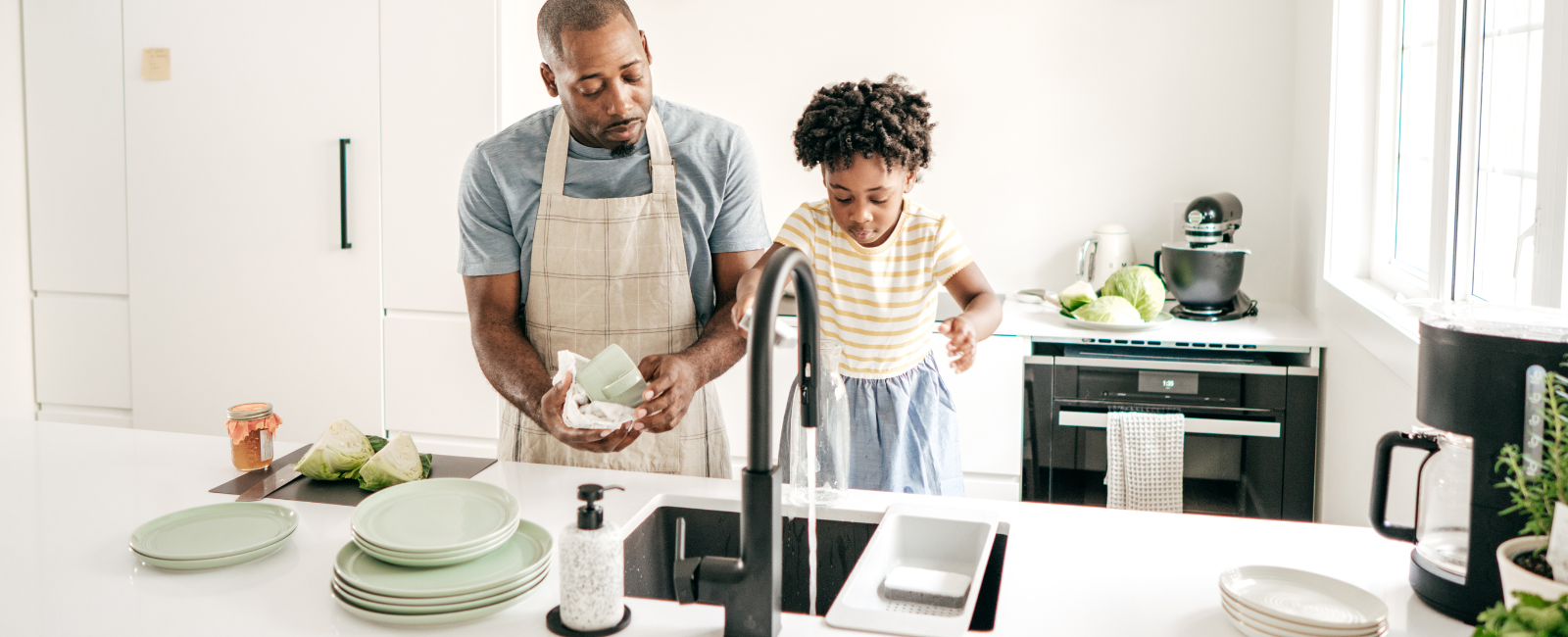 Watch how to change out your filter!
Frequently Asked Questions
---
Reverse osmosis (RO, for short) is a water purification process that uses a special semi-permeable membrane to filter out those unthinkable chemicals and contaminants from your tap water.

RO is the only thing that can bring your tap water to zero, as in zero particles which equals zero chemicals, heavy metals, and other contaminants. Nothing but pure, refreshing H20 💦

The truth is, you won't be able to trust the free-flowing water from your pipes unless reverse osmosis is involved.

For starters, the four stages of the Micromax7000 are made from the highest quality media, including a five-micron density graded carbon filter, a self-cleaning filter, the finest mesh on the market for the RO membrane, and a high-density active carbon block.

Plus, each filter stage is separate from the other to ensure that the contaminants that get trapped also get left behind to be flushed out rather than leached back into your drinking water 💦

Yes, we offer a 10 year manufacturer warranty on the Reverse Osmosis Water System
Once you purchase and install The Reverse Osmosis System, you'll get to take advantage of the following benefits daily:


💧You're guaranteed clean and safe water for drinking and cooking

💧It's super easy to install and maintain

💧It's much more cost-efficient than bottled water and other types of water filters

💧It takes up minimal space—right under your sink 

💧It's incredibly long-lasting 

💧It won't affect your water pressure

RO filter replacement should ideally be done every 12 months. This is to ensure the optimal effectiveness of your whole reverse osmosis system. Failure to do this would result in contaminants being still present in your drinking water.

When we say we put all of our products through rigorous testing, we mean it. The Micromax7000 is evaluated to ensure the following:


✔️That the material used in the product will not contribute contaminants to the drinking water

✔️That the chemical performance is measured for the contaminant reduction capability over the life and/or capacity of the unit

✔️That the structural integrity is sound, ensuring that the product will withstand a minimum of 10 years of normal household use

The Micromax7000 also proudly carries some of the most critical certifications out there, including: 


💧The NSF/ANSI STANDARD 42 & 58💧The Gold Seal Certification "Mark of Excellence" Since 1959
Testimonials
---
We let our reviews speak for themselves.
My family and I feel more healthier and energetic since we've started drinking the alkaline water from our new water system. Thanks for showing us what's really going into our bodies and on our skin before and after the installation of our new Goodfor Water system.
Absolutely has been a great investment for us. Our 20-month-old drinks this water as if it were juice ! Our 11-year-old would never grab a glass of water on her own now we find her randomly drinking without having to ask her to. There's just a different feeling to our bodies with this water.
Installation was quick and painless and a few months later I absolutely love our system the water is crisp and good to drink. No regrets, this was truly a great investment for our house and family.
Just got our system a few months ago and we are IN LOVE! No more bottles all over the house and my pets are even healthier and less lethargic! My cat wasn't feeling well; after a slight change of diet and alkaline water My "Fancy Girl is back!" Thank you for changing our family's life.
Best company hands down! Got the system and can tell the difference right away! Was spending so much money on alkaline water and now I get unlimited alkaline water directly from my tap!
Our Story, Our Promise
---
We're dedicated to helping you and your family lead healthier, happier lives. You deserve to be in the cleanest and safest environment, and we're committed to making it happen.