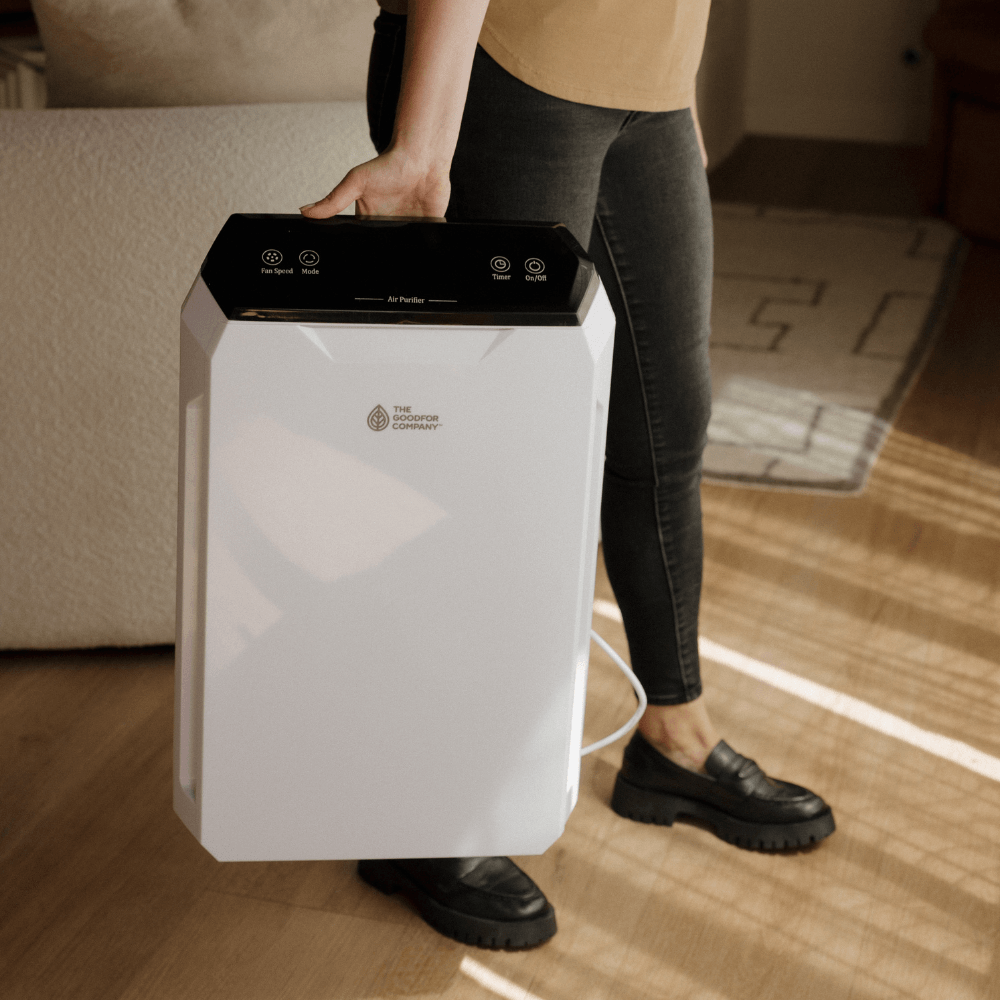 Anti-Virus Air Filtration System
GoodFor Air Filter: Breathe Easy, Sleep Better, and Stay Healthy
5-stage protection against viruses, dust, mold, pollen, germs, pet dander, smoke odors, dust mites, and tobacco smoke.
Captures and removes 99.9% of airborne particles.
Reduces static electricity for a harmonious home.
Enjoy a fresh-smelling and allergen-free environment.
Safeguard your family from indoor pollutants and allergens.
Breathe Better , Breathe Easy
Allergy & Asthma Relief
the 5-stage filtration stops symptoms at the source
Kill Airborne Illness
Reduce the presence of common airborne germs in your home
Fresh Smelling Home
neutralize the smell of undesirable odors in your home
Sleep Improvement
Soothe yourself to sleep and breathe easy all night long
Ambient Noise
Helps with focus or relaxation
Timer Settings
Set it & forget clean air solution
Testimonials
---
We let our reviews speak for themselves.
My partner is allergic to all dogs - their dander, fur, and saliva all set him off - For the first week with this air purifier, my partner has had zero issues with his allergies at night since it arrived!
Well I just ordered my third one so I guess I will leave a review! I bought one for my daughter because of her seasonal allergies. Works like a charm!
This is the first air purifier I've ever owned and I'm so happy with it. I bought this purifier because my neighbors smoke and it seeps into my apartment making everything reek! This machine worked instantly to solve the odor problem!
Perfect size not too big and not too small. It works great! I could tell the dif in air quality almost immediately!
I bought 2. One for the master bedroom and one for the living room area.
I call this thing the Dust Eater! I don't have AC meaning my windows are always open which leads to all surfaces getting covered in dust that accumulates over time! This thing eliminates that problem !! Best money I spent this year!
Frequently Asked Questions
---
Every house will vary depending on run time and quality of air, but we recommend changing air filters every 6 months when using them consistently or 12 months when only running them sparingly.

The GoodFor Air Filter can accommodate rooms up to 1,000 sqft.

Yes, we offer a 1 year manufacturer warranty on the Air Filter
There are 3 modes included, Auto mode, Purify mode, and a sleep mode. The Purifier is also constantly checking the air quality in the room with a resolution on the screen for optimal purification.

We accept returns in original packaging within 30 days of purchase.

The time settings are set by the hour and range from 1 hour to 8 hours.
Our Story, Our Promise
---
We're dedicated to helping you and your family lead healthier, happier lives. You deserve to be in the cleanest and safest environment, and we're committed to making it happen.